Since I'm not quite ready to jump back on the project train, I asked my friend Sarah if I could share with y'all a cool art project that she recently completed. I love that she took inspiration from art she found online and then created something totally personalized to her tastes!
Hi LWOTC readers! I'm Sarah, stopping in for a guest post so Charlotte can hang with that adorable baby boy of hers. You may remember me from the advice Charlotte gave me on my new condo.
My half bathroom was screaming for an update from a bland wall color and holes from the previous owners' wall art. I painted it a dark navy, which I totally love! It is already a tiny room, so there was no danger of making it feel smaller by painting it dark. I really like how the dark blue makes the white of the trim and sink/toilet pop. I bought some crisp white towels and a silver soap dispenser from Marshalls, and quickly decided it needed color!
My first instinct was to find some art from Etsy. I knew that I wanted bright colors, and was hoping for something with yellow to brighten up the blue. After holding up several empty frames, I determined the best look for the space would be something horizontal and about as wide as the toilet. Two of my favorites were this simple graffiti heart and this chevron.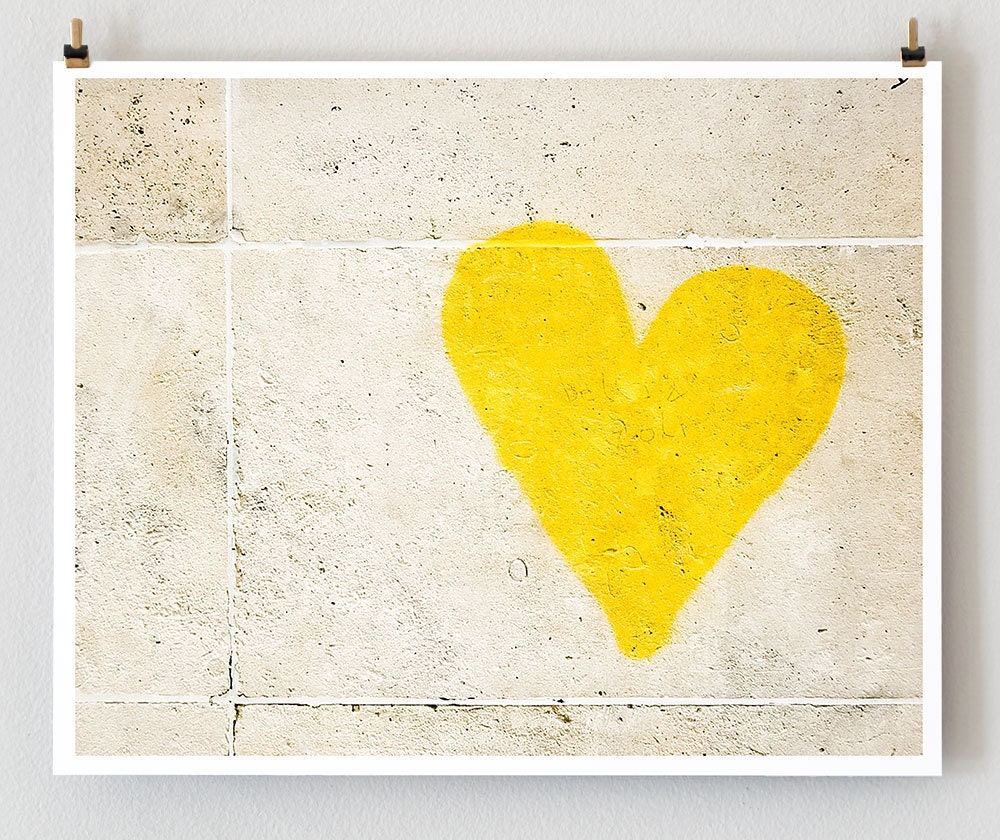 ;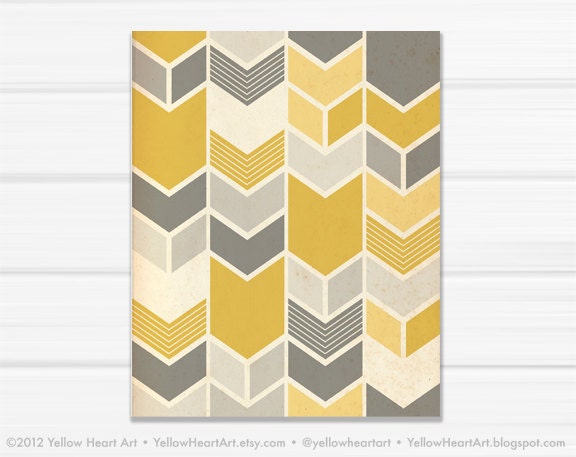 Neither of them really worked to fit the space. And although I love the heart, the background was kind of boring. Yes, I realize this is a picture of bricks, but it just wasn't cutting it for me. Then I remembered the Young House Love painting I've been envying for weeks, found here. I knew that I could use her method to create awesome art for my bathroom!
Here are my supplies. A 16"x20" canvas; black, yellow, and white paints; and some cheap paint brushes. I bought them all new for about $18, and I have an extra canvas for my next project. I also needed a tape measure, a pencil, and a straight edge.
I made marks on the top and bottom of my canvas 1 ½" apart. Then I used a straight edge to draw the lines. There are a few extra lines showing because I originally started with 2 inch gaps.
I used a mail flyer as my corner to draw the points. I just tried to make them as random as possible.
Since I wasn't exactly sure which way I wanted to go with the painting, I painted a page of printer paper yellow and let it dry. You'll see why later.
Then I started to paint the lines. I mixed different shades of grey using my white and black paints, starting light and working my way darker.
Here it is with all the different colors of grey. At the end I realized I couldn't make any more colors and painted the remaining sections white. I had to paint them to give it a cleaner look and cover some showing pencil lines.
Here is where my yellow paper came in. Fully dried, I cut out pieces so I could imagine my two brainstorms:
I decided the yellow heart looked the best, so I freehanded a sloppy yellow heart. I love it!
Here it is in its new home.
I really like the pop of yellow. It isn't my best work, but I'm a fan! Well, it might be my best work; it's my only work except for a few failed Corks N Canvas paintings that I've hidden in a closet!
Sarah
Very cool, Sarah! Her title for this post cracked me up. Seems like everyone is talking about that dang book! I haven't really had any interest in reading it so far, but if I keep hearing about it I may just have to see what all the fuss is about!